By: Sara Villagra Ureta, Académie Notre Europe facilitator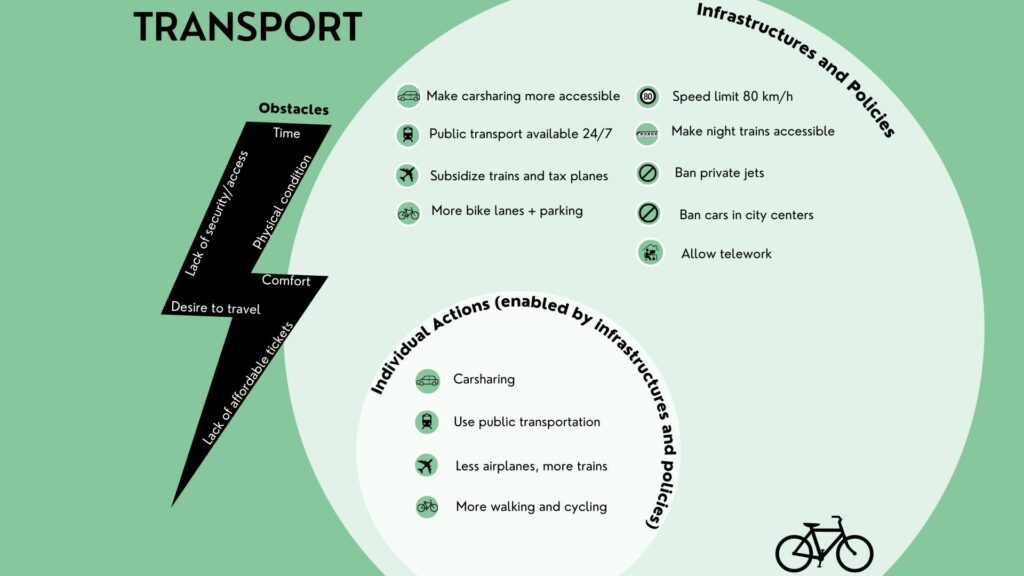 First of all, it is important to know that transportation is the sector that contributes most to climate change in France, with 136 MT of CO2 emissions. And this is not only because of heavy trucks, but also because of individual cars, which are responsible for more than half of the emissions of the transport sector (53%).
In the first part of the forum, we had to answer three questions about transport. It was really impressive to see that everyone could give their opinion and their proposals on the subject. People really wanted to express themselves and give answers. Here are the results and our experience:
What can I do to reduce my footprint in this area?
There were several proposals such as walking, carpooling, taking public transportation, reducing car use, using the train more, stopping plane usage, using the train instead of trucks for transporting materials, consuming less, cycling more or telecommuting once a week. There are some figures from France that support all of these ideas, such as:
– One day of teleworking per week avoids 271 kg of CO2 equivalent on average over the year.
– Trucks and heavy goods vehicles represent 34 MTCO2 eq. (25% of transport emissions).
– A round trip from Paris to Marseille emits about 250 kgCO2eq per passenger by plane compared to only 3kg CO2eq by train.
– Air pollution is the 3rd cause of death in France (after alcohol and tobacco). About 19% of the polluting particles are attributable to the transport sector.
What holds me back? (Obstacles)
Most of the participants had mentioned the issue of money, comfort and time, which for some participants often means favoring car or plane travel (rather than traveling by train). For the use of bicycles, the lack of infrastructure and safety behind the wheel are obstacles to be taken into account. Also, living in the countryside or in the suburbs makes mobility more complicated with public transportation.
What could help me change?
This question was really linked to the political proposals we made. There were a lot of very interesting proposals such as:
– improving infrastructure (more trains and overnight trains, more bike paths)
– promoting the use of public transport (e.g. increasing the services of public transport 7 days a week for 24 hours a day, subway at night)
– stopping the subsidies in the aviation sector and aiming to have fairer prices for tickets (taking into account ecological costs and taxing CO2 emissions)
– changing the way of traveling (choosing closer destinations)
– banning private jets
– limiting the speed of cars to 80km/h
– making car sharing more accessible
– reducing the number of cars in the city center
– smarter city planning (self-sufficient cities without the need to take a car for daily needs).
In the second part of the forum, we had to choose political and communication strategies. It was easier to give political ideas rather than ideas or initiatives for communication. In all the groups, there was always someone who was up to date with new measures initiated to reduce emissions.
The two chosen policies were:
Removing subsidies for low-cost flights to better take into account environmental costs.

Prohibiting flights throughout Europe for trips that take less than 2.5 hours by train.
And the two chosen communication strategies were :
A campaign to raise awareness of the CO2 emissions of the different means of transport (equivalent in terms of journey) (as shown in Figure 3).

Communication to companies to promote the use of bicycles and other means of public transport for their employees, by enabling safe places for bicycles, scooters, bonuses for using public transport etc.