FULFILL recently held its first Citizen Science workshop in Paris with a group of 35 young students and professionals of various nationalities pursuing a one year program about the EU, called the Académie Notre Europe. We want to highlight some of the outcomes from the enriching discussion!
The concept of Citizen Science is based around the idea of bringing together citizens and professional researchers to generate new knowledge or understanding together. In the context of FULFILL, it's all about engaging citizens in the process of formulating policy recommendations that are influenced by citizens' real life experiences. Engaging citizens in the project can improve the quality and public acceptability of policy recommendations and allows citizens to have a say on policies that will directly impact them.
This particular workshop was conducted with the help of four young participants from the Académie Notre Europe, who prepared fact sheets, moderated discussions, and summarized ideas on four sufficiency topics: Transport, Food, Housing, and Items (Objects).
The workshop opened with a brief introductory presentation where Fiona Breucker (researcher at JDI) explained the concept and importance of sufficiency. It's about creating the infrastructures and policies that can help us to change our lifestyles in a way that we can stay within planetary boundaries and ensure decent living for everyone. Sufficiency works alongside efficiency and renewables to work toward combating climate change. To learn more, check out our previous blog post: "What truly is Sufficiency?".
This was further contextualized by a brief comparison of carbon footprints by country to highlight the fact that carbon emissions vary greatly across countries and social classes, with richer individuals emitting much more. Participants were able to compare their individual carbon footprints, which they had a chance to explore prior to the workshop through a test via nos gestes climats.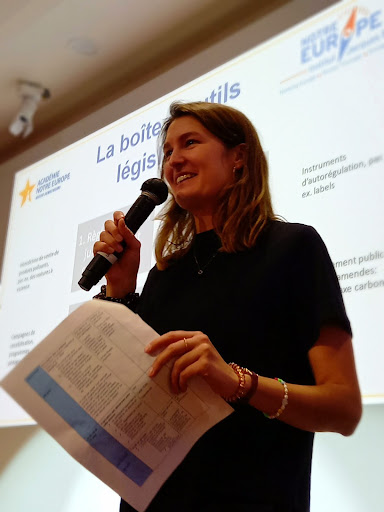 Next, they were split into the four thematic groups. Led by four participants who had prepared to be moderators, everyone was faced with three questions for each topic: 
What can I do to reduce my footprint in this area? 
What holds me back? 
What could help me change?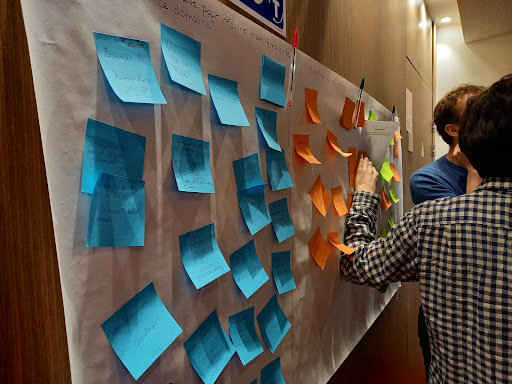 The 4 groups circulated in a world café style where the moderators presented what had previously been discussed in order to enrich the discussion with each passing group. 
Once every group had discussed each topic and visualized their ideas on big posters, the participants proposed policies and communication strategies to foster sufficiency in their given topic area.
These suggestions were then brought to a vote at the very end of the workshop, where 
all of the participants got together in the auditorium. Each group had elected a representative to present the different proposals for their given topic, which was followed by a very intense debate, and, finally, a collective vote.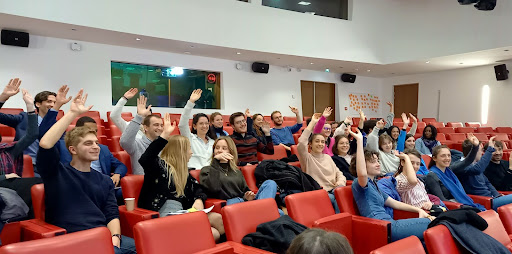 After the workshop, we were even able to move our proposals to the public polls! We posted them on the FULFILL Twitter to present the two main policy proposals from each of the 4 groups. Those who participated seemed to favor the following policies: 
Transportation: Prohibiting flights throughout Europe for trips that take less than 2.5 hours by train (70% of voters)
Food: Making reusable containers mandatory in supermarkets and other food distribution places (54.5% of voters)
Housing: Mandatory insulation standards, solar panels on roofs, and the widespread use of recycled materials for new housing (59.1% of voters)
 Items: A "carbon score label" for all newly manufactured products that clearly indicates the carbon footprint of each product (59.1% of voters)
Overall, the first Citizen Science workshop was a success. It fostered a variety of thought-provoking, fruitful, and productive conversations around how to best reduce our carbon footprint.
To learn more about the results, check out the following blog posts on Food, Transport, Housing, and Items, written by the young moderators from the Académie Notre Europe.